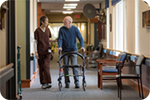 2019 Health Care High Risk Strategy
Last month, details of the 2019 High Risk Strategies (HRS) and updates to the 2018 HRS activities were posted on
worksafebc.com
.
The Health Care High Risk Strategy focuses WorkSafeBC resources on identified high-risk work activities within health care and community social services worksites. The primary focus is on work areas and occupations where direct patient care or services to individuals are provided (point of care), and where interactions between the worker and the individual can be observed. Point-of-care interactions between workers and individuals pose the greatest risk of injury to workers, including serious injuries due to acts of violence as well as musculoskeletal injuries.
In 2019, a communication and research initiative to prevent violence in health care is an additional focus. This initiative includes:
A review of Violence Risk Assessments (VRAs) in selected organizations for compliance and best practices
Consultation with senior leadership, directors, managers, and joint health and safety committee members of selected organizations to gather baseline information on current perspectives of violence prevention programs and the purpose and content of VRAs
More information about the Health Care High Risk Strategy can be found on
worksafebc.com
.
Point-of-care risk assessments revisited
In the December 2018 enews, we introduced the new point-of-care risk assessment (PCRA) video and explained how using PCRA in everyday interactions in long-term care can help prevent injury. The video was also edited into short, individual scenarios. These scenarios are well suited for group viewings such as during safety huddles or safety meetings. Group discussion is encouraged after viewing each video.